Difflam Mouth Gel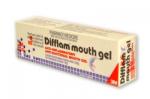 Product description
Difflam Mouth Gel is an anti-inflammatory, anti-bacterial mouth gel for fast relief of painful inflamed conditions of the mouth, including mouth and denture ulcers and sore gums.
Directions for use
Apply approximately 1cm of gel with a clean finger.
Gently massage into sore area.
Do not eat or drink for 15 minutes after application.
Apply every 2 to 3 hours up to a maximum of 12 times a day.
Warnings and cautions
Not recommended in children under 6 years.
Uninterrupted treatment should not exceed 7 days unless under medical supervision.
If symptoms persist, see your doctor or dentist.
Avoid contact with the eyes.
Store below 30 degrees celsius.
3M New Zealand Limited, Auckland, New Zealand.