Deep Heat Back Patches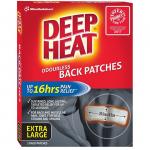 Product description
Deep Heat Back Patches provide effective relief of muscular aches and pains, joint stiffness, backache and strains and sprains. Deep Heat Back Patches can also be used for the relief of menstrual cramps. Deep Heat Back Patches are air-activated and provide up to 8 hours of warmth. Each pack contains 2 patches which each measure 9.5cm by 26cm. Deep Heat Back Patches are easy to use, odourless and non-staining.
Directions
Use on clean, dry skin.
Open pack, remove protective film from patch.
Apply adhesive side of patch to the skin at the centre of the affected area.
On flexible joints, it may be helpful to use dressing tape to hold the patch firmly in place.
The patch will heat up after 5 minutes and remain warm for up to 8 hours.
Warnings and cautions
For single use only. Do NOT attempt to reheat in over or microwave.
Use only one patch on the same area in one 24 hour period.
For external use only.
Do not ingest.
Do not cut, tear or otherwise open the patch itself as it contains iron and salt that can be harmful if ingested.
If the contents come into contact with the skin or eyes, rinse immediately with water.
If swallowed or if accidental ingestion occurs, rinse mouth with water and seek immediate medical advice.
Discontinue use if skin sensitivity occurs or the patch gets uncomfortable hot.
Do not use with other topical medications or other heat sources.
Do not use on children.
Do not use while sleeping.
Do not use on broken skin or on bruises or swellings.
Do not use on the face or mucous membranes.
If you are diabetic, pregnant, have poor circulation, nerve damage or a skin condition, consult your doctor before use.
Do not bandage over the patch or use it if it is damaged or torn.
Use with careful supervision on elderly, physically handicapped or disabled persons, and on people unable to remove the product on their own.
Avoid wetting the patch.
After use, dispose in normal household waste.
Store below 30 degrees celsius.
Mentholatum Australasia Pty Ltd, Australia.