Zetop (Generic of Zyrtec)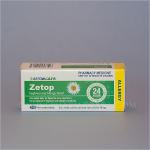 THIS PRODUCT HAS BEEN DISCONTINUED & IS NO LONGER AVAILABLE. For a similar product please see information on Zista (http://www.onlinepharmacynz.com/product/1073/Zista_10mg_Tablets_Generic_of_Zyrtec_.html)
Active Ingredients
Cetirizine Hydrochloride 10mg.
Product Description
Zetop is a generic of Zyrtec which provides rapid 24 hour relief from the symptoms of hayfever and allergic conditions. Take Zetop for the treatment of seasonal allergic, rhinitis, perennial allergic rhinitis, pruritus, urticaria of allergic origin and insect bites. Each box of Zetop contains 100 tablets.

Dosage
Adults and children over 12 years: One tablet daily. Children 6 to 12 years: One tablet daily or half a tablet (5mg) twice a day. Children 1 to 6 years: Half a tablet (5mg) daily.
Warnings and Cautions
Although this medication is unlikely to affect your ability to drive or operate machinery, a few people may be impaired and care should be taken.
Do not exceed a maximum dose of 20mg per day.
People with kidney problems and pregnant or breast-feeding woman should seek medical advice before taking this medicine.
Arrow Pharmaceuticals (NZ) Limited, Auckland, New Zealand.
No prices listed for this product.