Aerius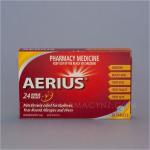 Active Ingredients
Desloratadine 5mg
Product Description
One small Aerius tablet provides rapid, 24 hour relief of hayfever (seasonal allergic rhinitis) and hives. Aerius significantly reduces the severity of symptoms such as sneezing, runny/itchy nose, itchy/watery eyes, itchy palate and itchy skin. Aerius is non-drowsy. Aerius does not contain gluten or sucrose.
Dosage
Adults and adolescents 12 years and over: Take one tablet daily.
Warnings and Cautions
Seek a doctor or pharmacist's advice before taking this medicine if you are pregnant or planning to become pregnant.
Although this medicine is unlikely to affect your ability to drive or operate machinery, a few people may be impaired and care should be taken.
If condition persists, consult your doctor or pharmacist.

No prices listed for this product.