Oralmedic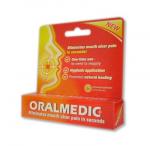 Active Ingredients
HYBENX (Hydroxybenzenesulphonic Acid, Hydroxymethoxybenzenesulphonic Acid, Sulphuric Acid.)
Product Description
One application of Oralmedic eliminates the pain and discomfort associated with mouth ulcers in seconds. It works by forming a protective barrier over the ulcer to provide optimum conditions for natural healing. Each pack contains 2 single use applicators each containing 0.2ml of HYBENX solution and 2 cotton buds for drying the affected area.
Application
Dry affected area using one of the cotton drying buds included.
Hold the applicator at arms length, away from the eyes, with the coloured ring up. Gently bend the coloured ring to one side until it snaps. Oralmedic will flow to the opposite end.
Apply to the affected area for 5 seconds, ensuring the entire ulcer is covered. A brief "stinging" sensation is experienced immediately upon application.
Rinse mouth thoroughly with water and spit out.

Warnings and Cautions
Do not treat an individual ulcer in more than one treatment session.
Do not use if allergic to materials that contain sulfer.
Do not use if you are pregnant, or on children under the age of 12.
Avoid contact with eyes. If eye exposure occurs, immediately remove any contact lenses, irrigate eyes for at least 15 minutes with water and seek medical advice.
Oralmedic is not intended for the treatment of blisters in the mouth.
If pain persists, see your doctor.
Keep out of the reach and sight of children.

HYBENX is a registered trademark of EPIEN Medical, Inc. 2007. Distributed in New Zealand by Marketing Brokers, Auckland, New Zealand.
No prices listed for this product.