Skin Doctors Capillary Clear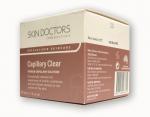 Product description
Skin Doctors Capillary Clear is a formulation that helps to gently and quickly improve the appearance of broken capillaries and blemishes on the surface of the skin. Results can be seen in just 6 weeks.
Directions for use
Massage into clean warm skin twice daily. For best results first apply a hot towel to your face in order to open the pores and aid absorption.
Warnings and cautions
Prior to use, patch test on a small section of the treatment area and wait for 24 hours. In case of allergic reaction or irritation, rinse immediately with cold water and discontinue use.

Avoid eyes, mouth and inflamed, sunburnt or broken skin.

This product contains aipha hydroxyl acid that may increase your skin's sensitivity to the sun and particularly the possibility of sunburn. Use sunscreen, wear protective clothing and limit sun exposure while using this product and for a week afterwards.
Skin Doctors Cosmeceuticals.
No prices listed for this product.