Nasaclear Nasal Spray - Generic of Flixonase (Flonase)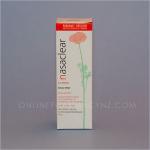 Unfortunately this product is no longer available.
Active ingredient
Fluticasone Propionate 50mcg.
Product description
Nasaclear Nasal Spray is for short term (3-6 months) prevention or treatment of allergies including hayfever. Nasaclear Nasal Spray provides non drowsy, once a day, 24 hour relief. One bottle of Nasaclear Nasal Spray contains 120 sprays. Nasaclear Nasal Spray prevents and treats:
Sneezing

Nasal congestion

Irritation

Excess mucus
It is effective in a wide range of allergies including those triggered by:
Pollen

Dust mites

Moulds

Animal hair/fur
Directions for use
Shake gently before use. Adults and children over 12 years, spray 2 sprays into each nostril once a day.
Warnings and cautions
Nasaclear is not recommended for children under 12 years of age.

Do not exceed the maximum stated dose (200mcg/day.)

If symptoms persist after 7 days, see your doctor.

Discard bottle 3 months after first using.
See you doctor or pharmacist before using Nasaclear if:
You are taking other steroids, such as some asthma prevention inhalers.

You have an infection in your nose or sinuses.

You have had a recent injury or surgery to your nose.
Pacific Pharmaceuticals Ltd, Auckland, New Zealand.
No prices listed for this product.