Durex Extra Safe Condoms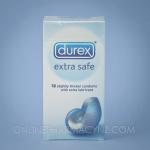 Product Description
Durex Extra Safe Condoms are extra lubricated and slightly thicker condoms to provide extra reassurance againt the risk of unplanned pregnancy and sexually transmitted infections.
Durex, Extra Safe and the Durex Seal of Quality device are trade marks of the SSL group. SSL New Zealand Ltd, Auckland, NZ.
No prices listed for this product.