Nutra Fibre Appetite Suppressant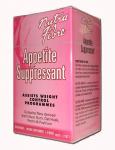 Product description
Nutra Fibre is a unique fibre complex, derived from five fibres with special properties that enable the fibre matrix to swell within the stomach absorbing water and producing a feeling of fullness that can act as a natural appetite suppressant. When taken with water before meals, Nutra Fibre quickly forms a gel matrix in the stomach, increases the thickness of fluids in the stomach to provide a feeling of fullness and slow gastric emptying, an important factor in controlling appetite.
Ingredients
Guar Gum 350mg
Avena sativa (Oat) seed husk 25mg
Pectin 25mg
Psyllium husk powder 25mg
Dosage
Take two capsules with one glass (200ml) of water up to an hour before meals. Up to four capsules may be taken before anticipated large meals.
Unfortunately this product has been discontinued and is no longer available.
Manufactured by Nutra-Life Health & Fitness (NZ) Ltd, Auckland, New Zealand.
No prices listed for this product.