Slim Shots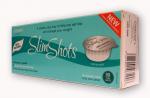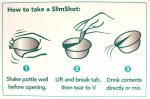 Product description
Slim Shots is a simple, easy way to help you eat less and manage your weight. Slim Shots is an innovative product scientifically formulated to help reduce calorie intake and manage weight, from the very first day. It is a 100% natural product made from a patent protected creamy liquid of water, palm oil and oats. It contains no artificial ingredients.
Slim Shots has an established safety profile and is an ideal companion to other weight management programmes. Slim Shots is also suitable for vegetarians. Slim Shots extends your feeling of fullness and helps you to eat less every day. One pack of Slim Shots contains 30 individual Slim Shots.
Ingredients
Water, purified palm oil, extract of oat oil.
Dosage
Drink contents directly at breakfast time or mix with breakfast items such as yogurt, cereal, coffee or tea.
For best results take a further Slim Shot approximately 4 hours later at the next meal.
Warnings and cautions
Successful weight management can only be achieved within the framework of a balanced diet with controlled calorie intake, regular exercise and lifestyle changes.

Slim Shots may not be suitable for everyone. Children, pregnant women and nursing mothers should consult their health professional for guidance as a precaution.

Store in a cool, dry place to maintain freshness. Do not refrigerate.

Do not exceed the recommended daily serving.
Gelven, Auckland, New Zealand.
No prices listed for this product.