Strepsils Echinacea Defence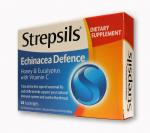 Ingredients
Sugar, Clucose syrup, Citric acid, Echinacea purpurea herba, Sodium ascorbate, Natural Flavouring, Absorbic acid, Colouring Agent.
Product Description
Strepsils Echinacea Defence combines the traditional herbal remedy for colds, with the essential nutrient and antioxidant Vitamin C. Echinacea is an ancient herb with a supporting effect on the bodies defence systems. It has been shown to help the body\'s natural resistance to infections such as colds abd should you get a cold it may help reduce the severity and duration of symptoms and thus speed recovery. Sucking a great tasting, citrus flavoured Strepsils Echinacea Defence lozenge also has a soothing effect on your throat. To provide 100% of the daily recommended allowance of Vitamin C for adults please follow the dosage instructions below.
Dosage
Adults - Dissolve one lozenge slowly in the mouth six times daily
Children 6 to 12 - Dissolve one lozenge slowly in the mouth twice daily
Strepsils Echinacea Defence is not suitable for children under 6 years
Made in the UK for: Boots Healthcare, Auckland, New Zealand
No prices listed for this product.