Plus White Tooth Care System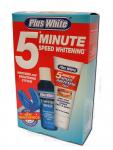 Active Ingredients
Hydrogen peroxide
Product Description
This product has been discontinued and is no longer available.
Plus White is a complete whitening system for revitalizing and whitening teeth. It removes the stains that are commonly found on the teeth of smokers and bleaches your teeth so that you have a dazzling white smile. It includes a Pre-Whitener Rinse that helps to remove film and loosen stains before you begin whitening. This allows the whitener gel to remove the remaining stains more effectively. The Whitening Gel is applied using the patented soft foam mouth tray that conforms to the shape of your mouth, making sure that all your teeth get a consistent whitening treatment.
Directions
Use twice daily for the first two weeks and then as required.
Warnings and Cautions
Should not be used by children under the age of 12 without the approval of their dentist.
The Gel is not recommended for people with gum disease, gingivitis, dental braces, severe receeding gums of if allergicto and of the ingredients.
Store in a cool, dry place and keep away from sunlight.
Plus+White is registered trademark of CCA Industries, Inc., E. Rutherford, NJ 07073 USA.
No prices listed for this product.