Rheumon Gel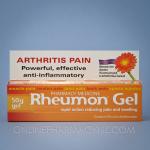 Active Ingredients
Etofenamate 5%w/w.
Inactive Ingredients
.
Product Description
Rheumon Gel is a powerful, effective anti-inflammatory aimed and reducing pain from muscle pain, tendon pain, back pain, arthritis pain, and sports injuries. The active agent Etofenamate has been especially developed for topical therapy. On application of Rheumon Gel high amounts of the active substance Etofenamate reach the inflamed tissue for fast and effective recovery.
Application
Apply a 5-10cm strip of Rheumon Gel 3-4 times a day and massage into the skin over as large an area as possible.
Warnings and Cautions
Do not apply Rheumon Gel to damaged or eczematous skin, to mucous membranes or to eyes.
Store Rheumon Gel below 30°C/85°F.
Rheumon Gel is a pharmacy only medicine.
No prices listed for this product.