Cartia (Aspirin)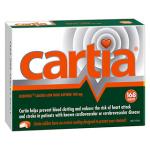 Active Ingredients
Duentric enteric coated Aspirin 100mg.
Product Description
Cartia tablets help you against some of the problems that can be caused by clotting in the blood stream such as heart attacks and strokes. The 100mg Aspirin dose is smaller than you would need to take for a headache or other pain. Cartia's Duentric coating prevents the aspirin from being released in the stomach and reduces the chance of the aspirin upsetting the stomach. Instead Cartia is released in the upper intestine where it is absorbed gradually into the blood stream. This slow absorption is believed to be necessary to maximize the anti-clotting effect.
Dosage
Adults - Take one tablet daily swallowed whole with water.
Do not break tablet.
Do not double dose if you miss one.
Cartia is not suitable for either children or teenagers without seeking medical advice.
Warnings and Cautions
Aspirin especially when taken on a long-term basis can cause irritation to the stomach.
Cartia is a ph-sensitive enteric-coated aspirin, which is often recommended for patients who are on long-term aspirin therapy.
Enteric-coated Cartia is designed to dissolve in the small intestine, not the stomach where aspirin may cause gastric upset and damage.
Do not exceed stated dose or use for prolonged periods of time unless recommended by your doctor, as it can be harmful.
Cartia is not recommended for people with chickenpox, influenza, or fever.
If you are allergic to salicylates or are taking anti-coagulants consult your doctor before taking Cartia.
Cartia and duentric are registered trade marks of SmithKline Beecham International.