Voltaren (Diclofenac) Emulgel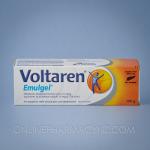 Active Ingredients
Diclofenac Diethylamine 1%w/w.
Product Description
Voltaren Emulgel is a topical anti-inflammatory gel that effectively relieves back, neck and shoulder pain and reduces swelling. Voltaren Emulgel is available in a 100g tube and is a white pleasant-smelling, non-greasy gel. The active ingredient in Voltaren Emulgel is the non-steroidal anti-inflammatory diclofenac sodium 1% w/w (as diclofenac diethylamine). Voltaren Emulgel works well on inflamed tendons, ligaments, muscles and joints suffering trauma, soft tissue rheumatism and localized rheumatic conditions.
Application
Gently rub a small amount of Voltaren Emulgel onto the painful or swollen area 2 or 3 times daily.
The amount of gel applied depends upon the size of the area treated.
Voltaren Emulgel is suitable for use by all age groups.
Warnings and Cautions
Voltaren Emulgel is for external use only.
Do not cover treated area with bandages after application of the gel.
Apply only to intact skin, not to wounds or open injuries.
Avoid contact with eyes or mucous membranes and wash your hands after application, unless this is the site being treated.
Do not use Voltaren Emulgel if you are allergic to any of its ingredients.
You should not use Voltaren Emulgel if you are pregnant or breast-feeding except under medical supervision.
Keep out of the reach of children.
Carefully read packaging for any other possible restrictions.
If symptoms do not improve within two weeks of commencing treatment, or worsen, consult your doctor.
Voltaren Emulgel is a pharmacy only medicine. Voltaren Emulgel is a registered trademark of Novartis Consumer Health