Blis K12 Fresh Breath Kit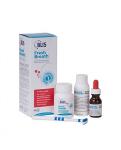 Product Description
Blis K12 is the world's first probiotic for the mouth and throat, clinically researched to produce long term fresh breath. FreshBreath is unique as it helps promote and maintain fresher breath by tackling the source of the problem - not temporarily masking it.
FreshBreath uses a combined approach to first scrape away bad bacteria with daily use of the tongue cleaning tool, followed by a once-weekly high strength antibacterial mouthwash designed to kill odour-causing bacteria. Daily use of Blis K12 lozenges aids in the continuous re-introduction of good bacteria to the oral cavity.
For best results, four weeks of continuous and uninterrupted use of the FreshBreath programme is recommended. The Blis K12 Fresh Breath Kit contains four weeks supply.
Warnings & Cautions
Keep out of reach of children. Suitable for adults only.
Consult your healthcare or dental professional if bad breath (halitosis) symptoms persist.
People suffering from immune compromised conditions should seek the advice of their doctor before taking this product.
Never use the Mouthwash Activator or the Mouthwash Concentrate on its own.
Blis Technologies Limited, Dunedin, New Zealand.
No prices listed for this product.