Combantrin (Pyrantel) Chocolate Squares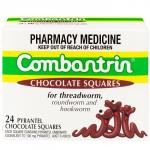 Active Ingredients
Each Combantrin chocolate square contains pyrantel embonate equivalent to 100mg pyrantel.
Inactive Ingredients
Contains no gluten or artificial colours. Does contain lactose, sucrose and artificial flavours.
Product Description
Combantrin Chocloate Squares are for the treatment of threadworm. Roundworm and hookworm infections can also be treated with Combantrin chocolate squares but you should seek medical advice before beginning treatment if you suspect that you have either of these worm infections. This is because of the difficulty in diagnosing roundworm and hookworm. Combantrin Chocolate Squares treat the whole family.
Directions
Approx. Age*
Weight Range
No. of Squares
Below 1 year
Consult your doctor
1-5 years
10-25kg
1-2
6-10 years
26-45kg
3-4
11-13 years
46-56kg
5
14-18 years
57-70kg
6
Adults
Over 70kg
7
*Approx. Age is only a guide
Warnings and Cautions
If pregnant consult your doctor prior to use.
You should not use Combantrin chocolate squares if you suffer from acute liver disease.
Keep out of reach of children.
Store below 25 degrees celsius.
Combantrin is a Registered Treadmark of Pfizer. Pfizer Laboratories Limited, Auckland.