Apo-Folic Acid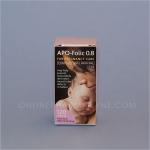 Active Ingredients
Folic Acid BP 0.8mg.
Product Description
Apo-Folic Acid 0.8mg may help prevent spina bifida and other neural tube defects in babies. Apo-Folic Acid is a supplement for women planning pregnancy and for expectant mothers.
Directions
Take 1 tablet daily for 4 weeks before conception to 3 months after conception.
Warnings and Cautions
Do not exceed the recommended dose.
Keep out of the reach of children.
Apotex NZ Ltd, Auckland.
No prices listed for this product.