Vermox (Mebendazole) Suspension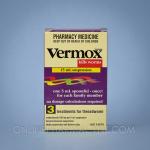 Active Ingredients
Vermox suspension (liquid) is available in a 15ml bottle of banana flavoured suspension containing 5ml of mebendazole.
Inactive Ingredients
Vermox suspension contains sucrose, methyl hydroxybenzoate and propyl hydroxybenzoate.
Product Description
Vermox Suspension is an anthelmintic agent, meaning an agent designed to destroy parasitic intestinal threadworms. Vermox is an easy, convenient, one dose treatment.
Directions
For the banana-flavoured liquid suspension, the dosage is one 5ml spoonful each.
Warnings and Cautions
Should not be taken by children under two years of age.
Should not be taken during pregnancy.
Store below 30 degrees celsius.
Biotech Pharmaceuticals Pty Ltd. 83 Cherry Lane, Laverton North, Victoria, 3026, Australia. Hotline 1800 620 898.