De-Worm (Mebendazole) Tablets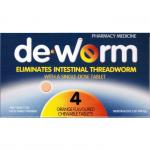 Active Ingredients
De-worm orange flavoured tablets contain 100mg of mebendazole.
Inactive Ingredients
Contains Saccharin sodium.
Product Description
De-worm is an anthelmintic agent, which means it is designed to destroy parasitic intestinal threadworms. The active ingredient in de-worm is mebendazole.De-Worm is available in a pack of 6 or 24 tablets. De-Worm is a single dose treatment and one tablet is sufficient to treat one person.

Directions
One orange flavoured de-worm tablet is all that is required to treat an adult or child, aged 2 to 12 years. This dosage is irrespective of their age, weight or size.
Warnings and Cautions
De-worm should not be taken by children under two years of age and it should not be taken during pregnancy.
Keep out of reach of children.
Store below 30 degrees celsius. Protect from heat, light and moisture.
Distributed by: Multichem NZ Ltd, Auckland.