Viratac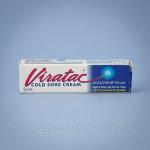 Active Ingredients
Aciclovir BP 5% w/w
Product Description
Viratac is for the treatment of cold sores. Apply cream when the first symptoms (tingling, itching or burning sensation) are noticed.
Directions
Apply 5 times a day for 5 to 7 days to the affected area.
Warnings and Cautions
Keep out of the reach of children
For external use only. Do not use in eyes.
Consult your doctor if the cold sores persist beyond 7 days.
Store below 25 dregees celsius. Do not refridgerate. Do not use if sealed nozzle is punctured.
Distributed by Multichem NZ Ltd, Auckland.