Virasolve Cold Sore Cream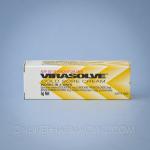 Active Ingredients
Each gram contains Lignocaine hydrochloride 20mg, Benzalkonium chloride 5mg
Inactive Ingredients
Chlorocresol 1mg/g as preservative.
Product Description
Virasolve Cold Sore Cream works in 3 ways - Antiviral to fight virus - Antibacterial to help prevent bactrerial infection - Anaesthetic to ease pain and itching.
Directions
Cover the infected area with a thin layer of Virasolve. Repeat the application every hour on day 1 and then every 4 hours on subsequent days until the cold sore disappears.
Warnings and Cautions
For external use only
Do not use during pregnancy.
Do not contiune usage if redness or swelling worsens.
Registered Trademark. Warner Lambert Consumer Healthcare Pty Ltd. Auckland.