Viraban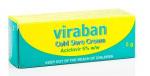 Active Ingredients
Acyclovir 5% w/w
Product Description
Viraban is for the treatment of cold sores. Viraban can prevent cold sores developing, or shorten healing time.
Directions
Use Viraban ointment as soon as the first symptoms of a cold sore appear, such as burning, tingling or itching. Apply a small amount 5 times daily for 5 days to the affected area.
Warnings and Cautions
Keep out of the reach of children.
For external use only. Do not use in eyes.
If your symptoms do not improve within 10 days of if they become worse check with your doctor or pharmacist.
Store below 25 dregees celsius. Do not refridgerate.
Distributed by AFT Pharmaceuticals, Auckland.