VeinAway Plus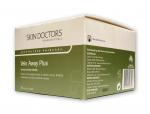 Active Ingredients
Retinyl Palmitate
Product Description
VeinAway Plus dramatically reduces the appearance of spider veins and broken capallaries.
Directions
For best results, apply to clean warm skin. Apply twice daily, gently rub VeinAway Plus into skin over affected area.
Warnings and Cautions
Not to be used during pregnancy due to high Retinol content.
Skin Doctors Dermaceuticals, NSW, Australia.
No prices listed for this product.