Thompson's Antioxidant ACE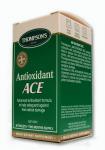 Product Description
Thompsons Antioxidant ACE contains specific Vitamins, Minerals and Herbs with high potency antioxidant properties to help reduce free radical damage from stress, diet and environmental pollutants. Nutirents such as Beta Carotene, Vitamin E, Vitamin C, Selenium and Zinc are considered the first line of defence, through their potent antioxidant activity. Antioxidant ACE features the latest discoveries in free radical scavanging nutrients, including Alpha Lipoic Acid, Lycopene and Grapeseed. Antioxidant supplementation helps to safeguard against free radical damage and maintain health.
Directions
Adults: One tablet a day (with food) or as professionally prescribed.
Warnings and Cautions
Keep out of the reach of children.
Store below 30 degrees celsius, in a dry place.
Thompsons Nutrition Limited, Auckland,NZ.
No prices listed for this product.