Strepsils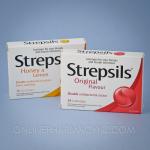 Active Ingredients
Dichlorobenzyl Alcohol 1.2mg, Amylmetacresol 600 micro grams.
Product Description
Strepsils Lozenges provide fast and effective relief from sore throats and mouth infections as each lozenge contains a combination of two anti-bacterials to fight the infections which cause sore throats.
Strepsils are available in following flavours.
Strepsils Original
Strepsils Honey & Lemon - Combines natural honey with lemon which has a soothing effect on the throat
Strepsils Sugar Free - Are suitable for use by people with diabetes and kinder to the teeth.
Dosage
Dissolve one lozenge slowly in the mouth every two to three hours.
Strepsils lozenges are suitable for adults and children.
Registered Trademark of Boots Company PLC Marketed by Boots Healthcare New Zealand Limited Wellington