Comvita Selenium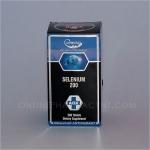 Unfortunately this product is no longer available.
Active Ingredients
Selenium (L-Selenomethionine) 50 mcg per tablet.
Product Description
Antioxidants help fight the harmful effects of free radicals generated in our fast paced society. Selenium provides powerful support for the body's natural defences at the cellular level. Comvita Selenium is a food form of selenium, the most processed form available. Comvita Selenium is available in either 100 or 200 tablets.
Dosage
Take 1-3 tablets daily with food.
Warnings and cautions
Do not exceed stated dose. Store below 30 degrees celsius.
Comvita New Zealand Ltd., Bay of Plenty, New Zealand.
No prices listed for this product.