Scholl Toenail Softening Solution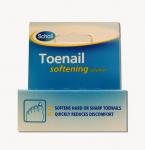 Active Ingredients
Sodium thiosulfate BP 2% w/w.
Product Description
Scholl Toenail Softening Solution softens hard or sharp toenails. Quickly reduces discomfort.
Directions
Feet should be clean and dry. Use applicator to apply to affected nail. Repeat twice daily until discomfort is relieved. No dressing is required. If area is very tender, it can be protected with a Scholl Toe Protector.
Warnings and Cautions
For external use only.
Do not use if the skin is broken.
Not to be used by diabetics or in cases of severe circulatory disorders.
Avoid contact with eyes, product can cause blindness.
Keep out of reach of children.
No prices listed for this product.