Pregaine Clear Gel Shampoo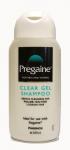 Product Description
Pregaine Clear Gel Shampoo is an innovative gel shampoo specially formulated to effectively and gently clean thinning hair, adding body, volume and manageability. Pregaine is ideally suited for use with Regaine as it does not impede the absorption of Reagine or damage new hair growth. Note: Pregiane does not contain the active ingredient found in Regaine.
Directions
Wet hair and apply Pregaine. Lather and rinse thoroughly.
Pharmacia & Upjohn, NZ.
No prices listed for this product.