Pevaryl Foaming Solution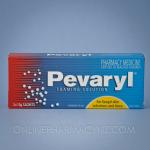 Active Ingredients
Econazole nitrate 1%w/w
Inactive Ingredients
Contains benzyl alcohol 0.1% as a preservative.
Product Description
Pevaryl Foaming Solution is for the treatment of Pityrasis versicolor.
Directions
Apply Pevaryl Foaming Solution to freshly showered skin and scalp. Rub in well for 3-5 minutes. Dry hair but DO NOT rinse the solution off your body. Shower off next morning if desired. Repeat the process for the next 2 evenings. Repeat the course 1 month abnd 3 months after the initial treatment to prevent relapse.
Warnings and Cautions
For external use only. Stor below 25 degrees celsius.
Keep out of reach of children.
Distributed in New Zealand by Pacific Pharmaceuticals Auckland NZ.