Naprogesic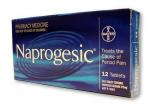 Active Ingredients
Naproxen Sodium 275mg.
Product Description
Naprogesic for up to 8 hours relief from period pain. If you experience period pain within a couple of years of getting your periods, then the cause of period pain is most probably tiny molecules called prostaglandins. When you have your period these are released to help the muscles of your uterus contract so it can expel its lining. The strength of contractions depends on the amount of prostaglandins your body produces. If your body produces a lot of these molecules, or if you are particularly sensitive to them, they will cause you pain. Naprogesic has been made especially for period pain. It reduces the amount prostaglandins produced, this reduces contractions and therefore reduces pain. Naprogesic reduces period pain for up to 8 hours.
Most women can take Naprogesic without a problem. However, as with all medications, there may be a small number of people who are sensitive to the active ingredient. If you experience any side effects that concern you, stop taking Naprogesic and consult your doctor for advice.
Dosage
Adults - Initially take 2 tablets with food followed by 1 tablet every 6 – 8 hours if required. DO NOT exceed 5 tablets per day.
Warnings and Cautions
If you have a history of high blood pressure, liver or kidney disease, gastro-intestinal ulcers, asthma, or are currently taking another medication you should see your doctor for their advice before taking Naprogesic.
If you are currently hypersensitive to aspirin or anti-inflammatory medications, or are currently taking anti-inflammatory medication, do not take Naprogesic.
If you are currently taking a medication that contains warfarin, do not take Naprogesic unless it is with the recommendation and close supervision of your doctor. Severe complications may arise if these 2 medications are taken together.
Syntex Australia Ltd, 4 - 10 Inman Road, Dee Why NSW 2099. Roche Products New Zealand. Roche Consumer Health 8 Henderson Pl, Te Papapa, Auckland, New Zealand