Grans Remedy Foot Roll-On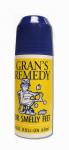 Active Ingredients
Zinc oxide, zinc undecylenate, alum.
Product Description
Grans Remedy Foot Roll-On for smelly feet. This roll-on is used as an antiperspirant and deoderant for feet.
Directions
Apply thoroughly to the feet daily, from the heels to the toes.
Warnings and Cautions
Do not use on an open wound.
No prices listed for this product.