Fade-Away Pigmentation lotion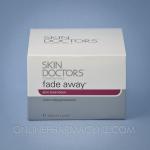 Active Ingredients
Bearberry Extract, Licorice, Salicylic Acid, Retinal Palmitate.
Product Description
Fade-Away Skin Tone Lotion reduces the unsightly appearance of freckles, age spots, liver spots and pigmentation on the body.
Directions
Apply to clean dry skin twice daily. Fade-Away Skin Tone Lotion should work on blemishes, age spots amd sun spots in 3-8 weeks.
Warnings and Cautions
Keep out of reach of chlidren.
For external use only.
Do not apply to broken or freshly shaven skin.
Skin Doctors Dermaceuticals, NSW, Australia.
No prices listed for this product.