Eulactol Heel Balm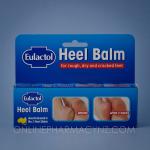 Product Description
For rough, dry and cracked feet.
Active Ingredients
Chemically synthesized urea 25%.
Directions
Eulactol Heel Balm helps to combat rough, dry, cracked and thickened skin on feet. Apply twice daily, morning and night. For best results, after application at night, cover the affected areas with Eulactol Poly-lined Cotton Socks.
Warnings and Cautions
Recommended for adult skin only.
Stinging may occur in deep cracks.
Discontinue use if local irritation or rash occurs during use.
Avoid contact with eyes.
For external use only.
Keep out of reach of children.
No prices listed for this product.