Ecreme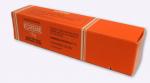 Product Description
Unfortunately this product is no longer available. Ecreme is a broad spectrum antifungal cream for the treatment of mycotic infections.
Active Ingredients
Econazole nitrate BP1%
Directions
Apply sparingly to the affected area and rub in gently 2 or 3 times daily.
Warnings and Cautions
For external use only.
Keep out of reach of children.
If symptoms persist after 3 weeks consult your doctor.
Store in a cool dry place.
Pacific Pharmaceuticals Ltd, Auckland.
No prices listed for this product.