Dermabrite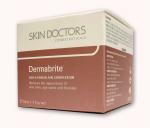 Active Ingredients
Bearberry Extract, Licorice, Salicylic Acid, Retinyl Palmitate
Product Description
Dermabrite is a fast and natural alternative for reducing the appearance of freckles, age spots and facial pigmentation. This gentle but powerful formulation is drevied from naturally based ingredients and may be gentle and effective on people of all nationalities and skin colours. Also exfoliates and rejuvinates the skin.
Directions
Apply to clean, dry skin twice daily. Expect flawless results in 3-8 weeks.
Warnings and Cautions
Use only as directed.
Do not use when pregnant of breastfeeding.
Do not use on broken or freshly shaven skin.
Skin Doctors Products contain a powerful blend of ingredients that may not be suitable for all skin types. Please patch test and wait 24 hours before use.
Skin Doctors Dermaceuticals, NSW, Australia.
No prices listed for this product.