Daktarin Lotion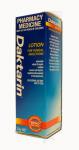 Active Ingredients
Miconazole nitrate 20mg/ml, benzoic acid 2mg/ml, butylated hydroxyanisole 32 mcg/ml.
Product Description
Daktarin lotion is a broad spectrum antifungal product. It treats common fungal and candidal skin infections. Because Daktarin lotion is water based, it is suitable for use on sensitive skin areas, such as the groin or torso.
Directions
Shake well beofre use. Before application, clean and dry affected area thoroughly. Apply a thin layer of lotion twice daily to the affected area. Rub in gently. FContinue treatment for up to two weeks after signs of infection have cleared.
Warnings and Cautions
Avoid contact with eyes.
Keep out of reach of children.
Daktarin is a trademark. Janssen-Cilag, Auckland, NZ.
No prices listed for this product.