DaktaGold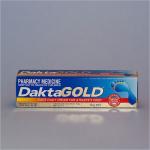 Active Ingredients
Ketoconazole 20mg/g, sodium sulfite 2mg/g.
Product Description
From the makers of Daktarin, comes new once daily DaktaGold. DaktaGold cream is a broad spectrum anti-fungal product. It treats common fungal and candidal skin infections.
DaktaGold cream is non-greasy and will not stain your clothing or footwear.
Directions
Clean and dry the affected area thoroughly. Apply DaktaGold cream by gently rubbing into the affected area once daily.
Continue treatment for 14 days after the disappearance of symptoms. If symptoms persist seek medical advice.
Warnings and Cautions
For external use only.
Keep out of reach of children.
Daktarin TM Janssen-Cilag Pty Ltd, New Zealand. DaktaGold is a Pharmacy medicine.