Centrum for Kids Multivitamin Chewable Tablets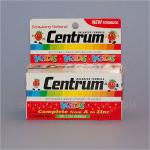 Product Description
Centrum Kids is a great tasting strawberry flavoured chewable multivitamin and mineral tablet containing 18 essential vitamins and minerals. Growing children require an adequate intake of vitamins and minerals everyday. It may be difficult to get them to eat a healthy, nutritionally balanced diet to provide the vitamins and minerals they need every day. Each Centrum Kids tablet contains a well balanced range of vitamins and minerals to help supplement and nutritional gaps, and provide the essential nutrients they need, every day.
Directions
Children 3 years and over: Chew 1 tablet daily or as directed by your Healthcare Professional.
Warnings and Cautions
Vitamins should not replace a balanced diet.
Keep out of each of children.
Store below 25 degrees celsius.
Centrum is a registered trademark of Wyeth Consumer Healthcare Pty Ltd.
No prices listed for this product.