Pamol Infant Drops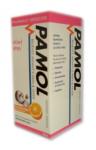 Active Ingredients
Paracetamol 50mg/1ml.
Inactive Ingredients
Methyl Hydroxybenzoate, Sodium Benzoate, Saccharin Sodium.
Product Description
Pamol Infant Drops are for the relief of pain and fever in infants. Pamol Paediatric Drops are designed to relieve pain and fever associated with teething, headache, earache, immunisation and the symptoms of colds and flu. Pamol Infant Drops are sugar free and have a pleasant orange flavour.
Dosage
Infants 3 to 6 months - Take 1.2 to 1.6ml
Infants 6 to 9 months - Take 1.6 to 2.0ml
Infants 9 to 12 months - Take 2.0 to 2.4ml
Dose should be given every 4 to 6 hours as required with not more than 4 doses in 24 hours.
Pamol Paediatric Drops can be administered in water or fruit juice if necessary.
Warnings and Cautions
Do not give to children under 2 years of age except on medical advice.
Prolonged use can be harmful.
Do not use for more than 48 hours with out seeking medical advice.
Store Pamol Paediatric Drops below 25°C/75°F.
Reg TM Warner Lambert Company USA