Canesten Cream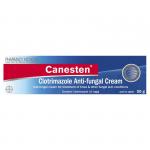 Active Ingredients
Clotrimazole 1%w/w.
Inactive Ingredients
Contains benzyl alcohol 1% as preservative.
Product Description
Canesten Cream is a broad spectrum anti-fungal cream. Canesten Cream provides effective treatment for fungal skin conditions such as tinea, athlete's foot, ring worm and candidal infections including nappy rash and jock itch.
Directions
Clean and dry the affected area thoroughly. Rub Canesten into the affected area 2-3 times daily. Continue treatment for 2 weeks after symptoms disappear to avoid recurrence.
Warnings and Cautions
Keep out of reach of children.
For external use only.
Do not use in the eyes.
Distributed in New Zealand by Bayer New Zealand Limited, Auckland.