Blackmores Treatment Cover Stick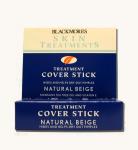 Product Description
Blackmores Treatment Cover Stick is a natural beige cover stick contains tea tree oil to help clear pimples by drying them out. It contains the herb St John's Wort to soothe and natural-source vitamin E to moisturise. Easy to use under foundation.
Contains tea tree to help keep the skin clean and reduce the bacteria associated with skin infection Contains St Johns Wort (hypericum) which is a soothing herb for reducing the redness often associated with acne
Contains tocopheryl acetate (natural-source vitamin E) to help retain optimum skin moisture levels, promoting flexibility and suppleness
Directions
Apply to affected areas then dab lightly to cover
Unfortunately this product has been discontinued.
Blackmores Ltd, 23 Roseberry Street, Baglow, NSW 2093, Australia
No prices listed for this product.