Blackmores Oil-Free Moisturising Lotion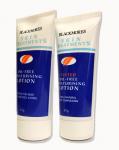 Product Description
Blackmores Oil-Free Moisturising Lotion is a refreshingly light oil-free moisturiser that naturally maintains the ideal moisture balance of the skin. It contains the herbs Golden Seal to reduce oiliness and St John's Wort to soothe skin redness. Ideal for oily and blemished skin.
Contains panthenol (provitamin B5) to help retain optimum skin moisture levels, promoting flexibility and suppleness.
Contains golden seal which has a gentle astringent action that helps reduce surface oiliness.
Contains St Johns Wort (hypericum) which is a soothing herb for reducing the redness and irritation often associated with acne.
Contains essential oils which impart a fresh citrus odour to the skin whilst providing mild antiseptic properties.
Availble with or without tinting.
Directions
After cleansing with Blackmores Anti-Bacterial Face Wash and Oil Controlling Toner, apply onto face and neck morning and night.
Use alone or under make-up.
Use daily.
Warnings and Cautions
Keep out of reach of children.
Blackmores Ltd, Auckland, NZ.
No prices listed for this product.