Blackmores Blackhead Remover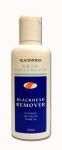 Product Description
Blackmores Blackhead Remover is a gentle astringent lotion for cleansing skin troubled with blackheads, pimples, open pores and related problems. Contains tea tree and thyme oils, which are natural antibacterial agents that help fight acne bacteria.
Contains tea tree and thyme oils which are gentle anti-bacterial agents that help cleanse the skin and reduce the bacteria associated with pimples and other skin infections.
Contains castor oil to draw impurities from the skin, promoting a clearer complexion.
Witch hazel is an astringent herb that refines the pores and helps reduce inflammation.
Lactic acid is a gentle skin exfoliator to assist with cleansing the affected area and removing dead skin cells.
Directions
Shake bottle before use.
Apply a thin layer of lotion onto cleansed skin with cotton wool.
Place a warm cloth on the skin for a minimum of 15 minutes to draw out impurities.
Refresh the cloth with warm water as required.
Rinse off the lotion using warm water.
By gently pressing on the surrounding area (or using a blackhead remover), release the shrunken plug from the clogged pore.
Warnings and Cautions
If irritation develops, discontinue use.
Keep out of reach of children.
Blackmores Ltd, 23 Roseberry Street, Baglow, NSW 2093, Australia
No prices listed for this product.