Blackmores Anti-Bacterial Pimple Gel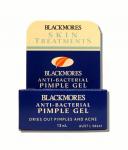 Active Ingredients
Commiphora molmol (Myrrh) tincture 20mg/g, Echinacea angustiflolia Extract 100mg/g, Tea Tree Oil 40mg/g.
Product Description
Blackmores Anti-Bacterial Pimple Gel is an anti-bacterial gel that works on pimples and acne by drying them out,at the same time helping to reduce redness and inflammation. Contains Tea Tree Oil, a natural anti-bacterial agent that helps fight acne bacteria.
Directions
After cleansing with Blackmores Anti-Bacterial Face Wash, apply gel to affected area.
Gently rub in until the gel disappears.
Use morning and night.
Recommended for use in conjunction with Blackmores Skin Support tablets.
Warnings and Cautions
If Irritation developes, discontinue use.
For external use only. Store below 30°C/85°F.
Blackmores Ltd, 23 Roseberry Street, Baglow, NSW 2093, Australia
No prices listed for this product.