Bepanthen Cream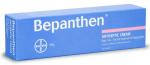 Active Ingredients
Benzalkonium Chloride 500mcg/g
Product Description
Bepanthen Cream is an antiseptic cream that soothes, heals and protects. Bepanthen Cream is gentle and effective for the relief of nappy rash and for mother's use in nipple care. Bepanthen Cream can also be used in the treatment of minor burns, cuts, abrasions, scalds, bites, stings, chapped hands, minor skin irritations and sunburn.
Directions
Baby care: Apply at each nappy change. Nipple care: Apply after each feeding. General use: Clean affected area and apply once or twice a day.
Warnings and Cautions
For external use only.
Store below 30 degrees celsius.
Distributed in New Zealand by Roche Consumer Health, a division of Roche Products (New Zealand) Ltd, Auckland.