Benhex cream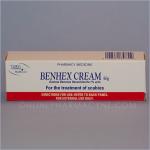 UNFORTUNATELY, THIS PRODUCT HAS BEEN DISCONTINUED BY THE MANUFACTURER & IS NO LONGER AVAILABLE 
Active Ingredients
Gamma Benzene Hexachloride (lindane) 1% w/w
Product Description
Benhex Cream is for the treatment of scabies. This product contains an insecticide.
Directions
Apply sparingly to the whole body from the neck down. Avoid the face and eyes. After 8-12 hours wash thoroughly with soap and cool water. On application should be sufficient but, if necessary repeat the treatment after 2 weeks.
Warnings and Cautions
For external use only.
Keep out of reach of children.
Use sparingly, avoiding contact with the eyes and mouth. Do not swallow.
Store below 25 degrees celsius.
Made in New Zealand by PSM Healthcare Ltd, Auckland.
No prices listed for this product.