Clearblue Digital Ovulation Test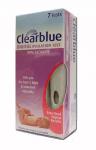 Product description
Maximise your chances of conception with the laboratory tested, 99% accurate, Clearblue Ovulation Test. Clearblue Ovulation Test works by detecting an increase (surge) in the hormone called Luteinising Hormone (LH) in your urine. This LH surge occures prior to the release of an egg from your overies - a process known as ovulation. You are at your most fertile on the day your LH surge is detected and the day after. With its digital display, Clearblue Digital Ovulation Test is easy to read. Results are available in just 3 minutes. Contains 7 tests.
Instructions
Detailed instructions are included with your Clearblue Ovulation Test.
Warnings and Cautions
Clearblue Digital Ovulation Test is not intended for contraceptive use and is not suitable if you have already been pregnant, reached menopause, have polycystic ovarian syndrome or are taking fertility drugs. Clearblue Digital Ovulation Test can be used if you are taking clomiphene citrate.
Pfizer Consumer Healthcare, Auckland.
No prices listed for this product.