Vermox (Mebendazole) Tablets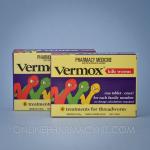 Active Ingredients
Mebendazole 100mg
Inactive Ingredients
Contains saccharin sodium
Product Description
Vermox Tablets are a worm treatment containing the active ingredient mebendazole, which is used to control threadworm infestations. With very few exceptions, Vermox can be taken by the whole family and features a very simple dosage system. A single tablet is all that is required for each family member.  Vermox Tablets are available in packs of 4 or 6 tablets.
Directions
Using Vermox for Threadworm : One orange-flavoured Vermox tablet is all that is required to treat an adult or a child aged 2 to 12 years, irrespective of their age, weight or size.
Warnings and Cautions
Keep out of reach of children.
Should not be taken by children under two years of age.
Should not be taken during pregnancy.
Store below 30 degrees celsius.
Biotech Pharmaceuticals Pty Ltd. 83 Cherry Lane, Laverton North, Victoria, 3026, Australia. Hotline 1800 620 898.