Scholl Party Feet Heel Cushions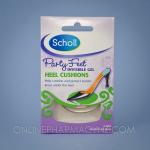 Product description
Scholl Party Feet Heel Cushions provide invisible gel cushioning relief to help cushion and protect tender areas under the heel. Scholl Party Feet Heel Cushions are made of clear gel, are ultra slim and discreet. They provide non-slip grip to stay firmly in place. They are re-usuable and washable.
Directions
Peel cushions off protective film. Insert in heel area, with larger rounded edge against back of shoe, sticky side down.
SSL International PLC, Manchester, UK.
No prices listed for this product.